🍟 3/17/2022 – Building Ten F45's In Ireland
MEET A ZEE
Gavin McConnon: F45
This conversation with Gavin was an especially fun one, as F45 is one of the fastest growing franchises ever. They were founded in 2011, started franchising in 2013, and today they're a public company on the NYSE with a market cap over $1 Billion!
Not only was it awesome to speak with someone who got to be in the F45 system during periods of rapid growth, he also was the first franchise owner to bring the brand to his home country of Ireland.
Here's what I learned:
1. You Don't Need To Be A Unicorn
Gavin has had tons of entrepreneurial ventures throughout his career. In the 90's he ran a successful business selling ringtones for cell phone users. Later on he began a mail-order DVD business that competed directly with Netflix in Ireland and England.
Gavin saw the writing on the wall that it'd be an incredibly difficult journey to beat out Netflix in online streaming. While the reward for potentially winning could've meant a massive pay day, he ultimately opted for sustainable forms of income via a franchise.
He may not ever be a billionaire, but ten F45's will go a long way!
2. Nailing The Pre-Launch
Since F45 was a new concept to Ireland, Gavin wanted to do the best job he could to educate the population in Dublin on what he was bringing to them.
This resulted in an amazing combination of local and digital marketing before the launch of his first location.
He ran ads via facebook to build up a large email list, and also had class trainers walk around to local lunch spots to hand out flyers and build awareness.
The boots on the ground marketing gave F45 a local feel of sorts, while the digital marketing has been a gift that keeps on giving: Gavin is continuously building his email list, and uses it to share stories of his customers who have made amazing physical improvements through F45 training sessions.
Remember, when it comes to content marketing, the goal isn't to plug your service or special promos with every email or instagram. It's to create good content that keeps your brand top of mind.
Gavin is doing this well with his inspirational customer success stories!
3. Outsourcing As You Scale
The biggest question multi-unit owners face is how to build your team as you grow locations. From what I've learned, it varies by owner and the brand they are building.
In Gavin's case, the first location was the hardest as everything was new for him – hiring, construction, etc. However he says in our conversation that it gets easier and easier as you build 2, 3, and beyond.
The challenge is scaling the team to oversee the gyms, so that Gavin can continue to focus on the organization as a whole, and building locations 7-10.
What he's been able to do is make 2 strategic decisions to free up his time:
Hire an operations manager to look over 3 locations
Outsource the digital marketing to an agency
Both of these have freed up a ton of time for Gavin – as he now only has to look over 3 locations while his operations manager handles the other 3. In regards to marketing, instead of doing the digital marketing for six entire locations, the agency now does it all for him!
These are the decisions you have to make as you build your empire, but the good news is that when you have multiple locations, you typically have the cash flow to be able to do this without a problem.
If you want to listen to the conversation in full, click here!
FRANCHISE OF THE DAY
Koala Insulation
Fast Facts
Background
Founded in 2018, franchising since 2020
Based in Florida; 213 territories
An insulation service franchise for home and business owners
Fees + Investment
Royalty: 6.5% of gross sales
Brand Fund: 1% of gross sales
Franchise Fee: $49,500
Initial investment: $127,327 – $165,110
Financial Performance
The below information is based on 2 franchisees performance for the full year 2020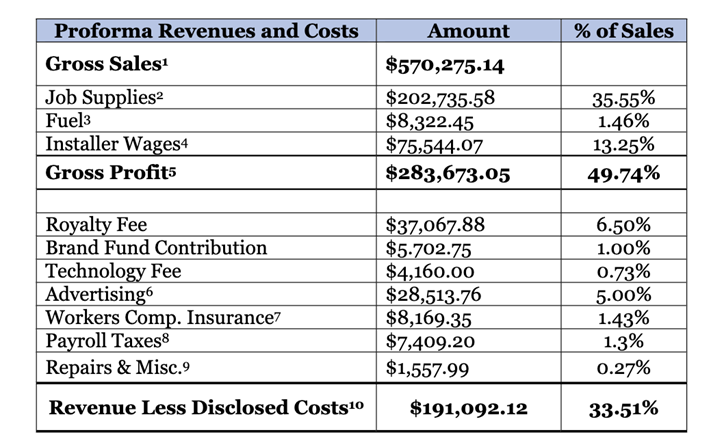 The Wolf's Take
Growth
Koala Insulation has been an absolute rocket ship in the service niche of franchises.
Founded in 2018 and only franchising since 2020, they already have 200+ territories open and operating
I'll be eagerly awaiting their financials for 2021, but as of 2020 we see a brand that returned $191,000 from at most a $165,000 investment. This is a fantastic return for any business!
Service Business Benefits
As with any service business, no lease or office space is required, which is a big reason why the initial investment is far lower. As far as Koala specifically, insulation installs are a much simpler service than HVAC, plumbing, roofing, etc.
You also can provide the service to a variety of customer types:
Homeowners
Contractors
Restoration companies
Property managers
Business owners
This is effectively 3 separate sales segments: residential, commercial, and industrial!
Differentiators
The reality for most service businesses is that it's highly trainable labor. If you're looking for proprietary tech as a moat, you're never going to find it in these businesses, including Koala Insulation.
Based on Koala's website, they focus on their customer service and modern marketing to differentiate from the competition. I've seen it first-hand from connections I've made on twitter – you can dominate your local market just from answering the phone and having a modern website.
While it may not be true in every market – many service businesses that exist today are run by owners that haven't kept up with changes in technology .
Some are still using fax machines on a daily basis!
As I've said before, service businesses can be a great launch pad into entrepreneurship due to their low cost and fairly quick ramp up time. If you think a service biz could be for you, I'd check out this brand sooner rather than later!
Resources
Disclaimer: This Content is for informational purposes only, you should not construe any such information or other material as legal, tax, investment, financial, or other advice. Nothing contained on this site constitutes a solicitation, recommendation, endorsement, or offer to buy or sell any franchises, securities, or other financial instruments in this or in any other jurisdiction in which such solicitation or offer would be unlawful under the franchise and/or securities laws of such jurisdiction.
All Content in this email is information of a general nature and does not address the detailed circumstances of any particular individual or entity. Nothing in the email constitutes professional and/or financial advice, nor does any information in the email constitute a comprehensive or complete statement of the matters discussed or the law relating thereto. You alone assume the sole responsibility of evaluating the merits and risks associated with the use of any information or other Content in this email before making any decisions based on such information or other Content.