🍟 8/23/2021 – Crumbl And Fundraising University
Today's edition highlights Crumbl and Fundraising University, two up-start franchises – both of which only started franchising in the last 4 years!
Crumbl started with "one big dream, two crazy cousins, and the goal to create the world's best chocolate chip cookie". Sawyer Hemsley (COO) and Jason McGowan (CEO) dove into the world of baking and tested their cookies 1 ingredient at a time, asking random passerby at local gas stations and grocery stores to try two cookies side-by-side and answer one question: "Which of these two cookies is best?" In just a few years, Crumbl is now known for their high-quality ingredients, iconic pink packaging, and prepping their baked goods directly in front of customers.
Fundraising University is a team of former athletes and coaches who know the pain points of funding sports programs. Franchisees are able to start up fast and operate with low overhead costs. The concept enables franchisees to work with high school and middle school sports teams, with the goal of raising as much money as possible for them in the shortest amount of time.
Both Crumbl and Fundraising University have shown promising unit economics in their FDD's based on other franchisees performance. Read on for the exact numbers 👇
---
Crumbl Cookies
Background
Franchising since 2018
Founded in 2017 in Logan, Utah
Offers delivery, pick-up, catering, nationwide shipping, via the Crumbl app
Number of Units
Apologies if you're reading this from the western half of the United States 😔
Fees, Expenses (2020 FDD)
Initial Franchise Fee: $25,000
Royalty Fee: 8% of gross sales
Brand Development Fund: 2% of gross sales
Initial Investment (2020 FDD)
$227,666 – $567,833
Real estate and improvements include $75k-$250k of the range
Furniture, fixtures, & equipment make up $75k-$100k of the range
Financial Performance (2020 FDD)
The below financial data from Item 19 of Crumbl's FDD is represented from the 14 franchised units that existed at the start of 2019, and operated for the entire calendar year of 2019
The Wolf's Take 🍟
Even with an 8% royalty, the franchisees reported an average net margin of 21.58%, which is incredibly strong for a food concept (not to mention the average net profit was $284k off what is projected to be a $567k investment on the high end).
The thing to keep in mind is that this is the most recent data provided, and it's only from 14 locations in 2019. As you saw based on the remaining territory, this concept has had MONSTROUS growth since it's founding just 4 years ago!
Any candidate interested in this franchise would get to speak to more recent franchisees, so a few good questions to ask would be how their performance stacks up against the numbers in the FDD, and of course if/how covid has impacted operations.
Nonetheless, this franchise has a great founding story, and if they truly do have the world's greatest chocolate chip cookie…then it's no wonder they've grown so quickly!
Recent Press
---
Fundraising University
Background
Franchising since 2020
Founded in 2009, currently based in Loch Lloyd, Missouri
Franchisees raise money for middle school and high school teams
Number of Units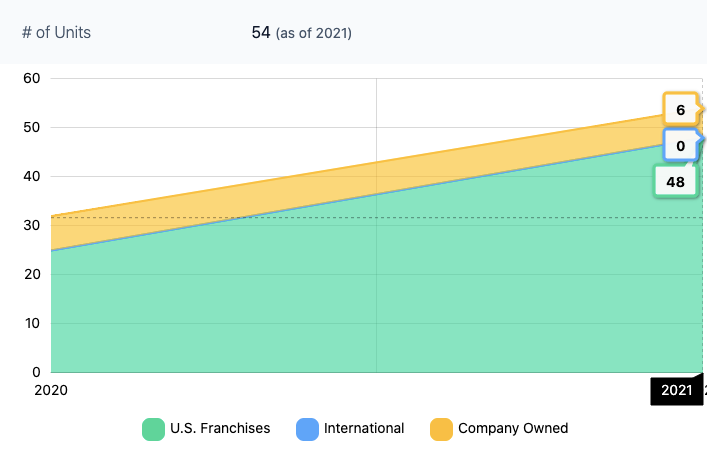 Source: Entrpreneur.com
Fees, Expenses (2020 FDD)
Initial Franchise Fee: $49,500
Royalty: $1,500 per month to start, scales to $4,000 by month 60
National Brand Fund: $500 per month to start, scales to $1,666.67 by month 60
Initial Investment (2020 FDD)
Financial Performance (2020 FDD)
Below is financial data from 7 of the company's affiliate locations from July 1st 2018 to June 30th 2019
The Wolf's Take 🍟
This is a unique concept that's in an area I'm definitely not familiar with. The affiliate locations have posted impressive numbers however, and the franchisor has gotten off to a HOT start by selling 48 units in 2020.
I'd definitely do some extra homework on what makes this type of business tick both on a micro and macro level, but if you're looking for a lower cost franchise that doesn't require real estate, I'd give this brand a look before more territory is sold.
Lastly, while I wasn't able to find anything definitive on this, it seems like franchisees make money by essentially taking a small % of the money raised as their own profit, while the rest goes to the school – so understanding the specifics of the contract with schools and ensuring there's no ethical conflicts of interest is important.
Recent Press
I couldn't find any press, as the "Fundraising University" search had a lot of cross over with unrelated information. In the absence of press, below is their twitter account, which contains news + updates from the brand:
Disclaimer: This Content is for informational purposes only, you should not construe any such information or other material as legal, tax, investment, financial, or other advice. Nothing contained on this site constitutes a solicitation, recommendation, endorsement, or offer to buy or sell any franchises, securities, or other financial instruments in this or in any other jurisdiction in which such solicitation or offer would be unlawful under the franchise and/or securities laws of such jurisdiction.
All Content in this email is information of a general nature and does not address the detailed circumstances of any particular individual or entity. Nothing in the email constitutes professional and/or financial advice, nor does any information in the email constitute a comprehensive or complete statement of the matters discussed or the law relating thereto. You alone assume the sole responsibility of evaluating the merits and risks associated with the use of any information or other Content in this email before making any decisions based on such information or other Content.