🍟 4/7/2022 – Los Angeles Massage Franchise Is Expanding Rapidly
MEET A ZEE
Kenny Rose: FranShares
This weeks Meet a Zee is a little different – typically it's my takeaways from conversations with multi-unit franchise owners, to give you inside access to what owning franchises can be like.
This week I changed it up with a conversation with Kenny Rose, the founder + CEO of FranShares. Outside of franchisors, what Kenny's building is the most interesting company in franchising today.
If you've been subscribed since last month, you probably remember seeing FranShares sponsor the newsletter. This is a completely organic feature of the company, as I truly am a big fan of what they're building.
Here's my top 3 learnings from our conversation:
1. FranShares Will Lower the Barrier to Franchise Ownership
If you're familiar with Real Estate Investment Trusts i.e. REIT's, this is exactly what Kenny is building…but for franchises!
Commercial real estate operators will buy buildings, and offer shares in the properties via a REIT. With FranShares, Kenny is building franchise locations of various brands, hiring management teams to operate them, and is selling shares of these multi-unit operations to everyday investors.
By doing this, rather than having to spend six figures to own a franchise, you'll have the ability to passively own portions of franchises for as low as just $500 / share.
2. Owning a Piece of Your Local Business Is a Virtuous Cycle
Wouldn't it be cool to own equity in your local barbershop, restaurant, or gym?
At scale, that can be possible with FranShares. What this will do is create a powerful virtuous cycle within communities that evangelizes customers via equity ownership.
Buy shares of your local business
be a customer
spread awareness
If you own equity in a local franchise restaurant, you're going to want people to go there! This is a win-win for the franchise owner and the investors, as it (theoretically) should lead to more net profit, which leads to higher distribution payouts to everyone!
3. Trade Franchises Like Stocks
At scale, FranShares aims to provide a super liquid market that allows franchises to be traded just like stocks.
This is going to take time – their first goal is to build 50 franchises (25 locations of 2 brands), and grow from there.
But with enough investors on the platform and franchise locations built, investors will be able to swap in and out of different franchise brands.
I'm excited to watch the FranShares team build this thing!
To listen to the full conversation, click here!
FRANCHISE OF THE DAY
The Now Massage
Fast Facts
Background
Founded in 2015, franchising since 2019
Based in Los Angeles, California; 22+ locations open, 100+ in development
A massage parlor that provides massages as part of a healthy routine to offer a healthy therapeutic release from stress/anxiety
Fees + Investment
Royalty: 6%
Brand Fund: 2%
Franchise Fee: $60,000
Initial Investment: $414,850 – $767,600
Financial Performance
The below financials are from 4 affiliate locations in Los-Angeles for the full year 2019 (I'm sorry for how small the first pic is!)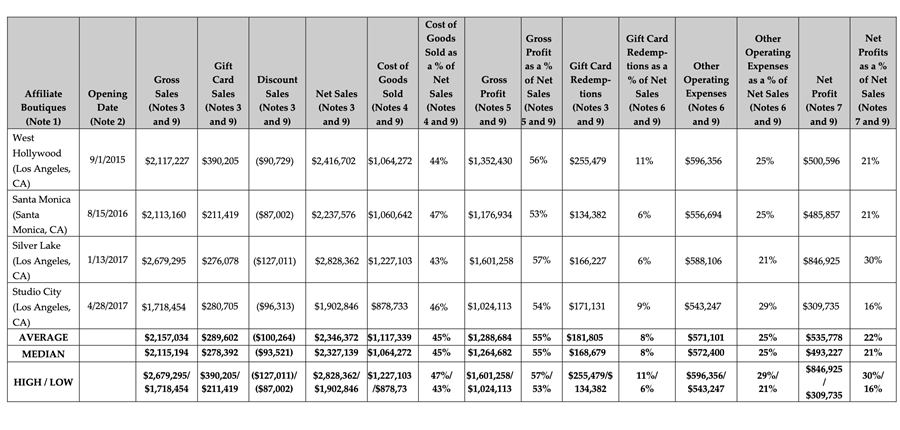 The Wolf's Take
Before you get out your magnifying glass to read the first set of financials, here's the most important line items to note:
Average Revenue: $2,157,034
Average Net profit AFTER royalty fees: $406,356
These are pretty big numbers to be throwing up for any franchise. Keep in mind the data is from 2019 – while there was numbers from 2020 available, those financials were a blood bath given the lockdowns that took place.
Aside from the fact that including all the data would make this newsletter much longer, I believe seeing the pre-covid numbers is a more helpful baseline.
If you do decide to look into this franchise, you'll be able to speak to existing owners to learn how they're currently faring.
Beyond the numbers, this is what I'm thinking about:
Key Drivers
Social Media / PR
The Now team either managers or supports all PR, digital advertising, social media and influencer marketing, etc.
While many franchises claim to offer this, The Now seems to *actually* know what they're doing. For a brand to have almost ~60k instagram followers after being founded in 2015, it's an impressive feat. They've also been featured in top publications like GQ, goop, Vogue, and more.
For this category in particular, I can see social media and ~boujee~ media outlets being a major driver for awareness, and it looks like their LA presence is paying dividends
.
Stability
Outside of global pandemics, this seems to be a pretty stable industry that consistently is around an $18 billion total market size.
As we'll get to in the next section, the biggest risk in your local market is assessing the local competition…
Potential Risks
Established Competition
It's no secret that there's a lot of competition in this arena. Here's a look at some big players:
Massage Envy: 1,112 locations
Elements Massage: 249 locations
Hand & Stone Massage and Facial Spa: 493 locations
There's only so much demand for massages, so if your town is flooded with them, you have to consider if The Now has what it takes to capture market share.
It's worth noting that despite Massage Envy's large footprint, their social media following on Instagram is at 36k, over 20k less than The Now.
It's LA Baby

While being LA based has likely been a big driver for their affiliate locations, you need to consider if this high-end massage parlor would work in a market you're targeting.
Not only is the population density much higher in Los Angeles, but the clientele is suited for luxury brands. If you look at this brand and end up speaking with existing owners, I'd start with owners that aren't located in a tier 1 city!
—
Overall, I'm impressed with the brand's quick growth, social media chops, and unit economics in their affiliate locations.
If massages are your jam, this brand is worth a look!
Resources
Disclaimer: This Content is for informational purposes only, you should not construe any such information or other material as legal, tax, investment, financial, or other advice. Nothing contained on this site constitutes a solicitation, recommendation, endorsement, or offer to buy or sell any franchises, securities, or other financial instruments in this or in any other jurisdiction in which such solicitation or offer would be unlawful under the franchise and/or securities laws of such jurisdiction.
All Content in this email is information of a general nature and does not address the detailed circumstances of any particular individual or entity. Nothing in the email constitutes professional and/or financial advice, nor does any information in the email constitute a comprehensive or complete statement of the matters discussed or the law relating thereto. You alone assume the sole responsibility of evaluating the merits and risks associated with the use of any information or other Content in this email before making any decisions based on such information or other Content.