🍟 3/14/2022 – Steve Aoki Joins OrangeTheory
FRANCHISE HEADLINES
Steve Aoki OrangeTheory
The Scoop
Steve Aoki, the DJ whose songs are burned into my memory from spring break in Cabo however many years ago, has been named OrangeTheory's new "CMO" aka Chief Music Officer.
His first order of business is to produce a soundtrack for a new series of exercise routines called "All Out with Aoki".
The Wolf's Take
The beauty of the franchise model is that it's an incredible tool for scale. Simply put, franchises can get really big, and when that happens, they can partner with big names and public figures.
This partnership seems like a great fit for the boutique fitness giant, where music clearly plays a major role in the customer experience i.e. during high intensity workouts.
Celebrity Partnerships
Aoki joins a long list of franchise brand <> celebrity partnerships. Here's a list of some of my favorites:
Patrick Mahomes –> opening 30 Whataburger's
Megan Thee Stallion –> Popeyes marketing partner
Lebron James –> major equity stake (~$45M) in Blaze Pizza
Mark Wahlberg –> owned 33% of F45 at the time of their IPO
When franchises achieve national scale, they can attract the biggest names in the world!
More Headlines
Gong Cha Signs 3 US Deals

With over 1,670 locations worldwide, the brand is accelerating is US expansion
McDonald's Pauses Russian Operations

Closing 850+ Russian stores represents 9% of global revenue
Biggest OrangeTheory Franchisee Launching Sauna Franchise

Jamie Weeks has the backing of a PE Firm for his brand Sweathouz
FLAGSHIP FRANCHISE
KFC
Founded: 1930
Units Open: 25,680
Investment Range: $1.45M – $2.8M
Average Revenue per Location: $1,193,701
Did You Know?
In Japan, eating KFC on Christmas day is a tradition. In a country where less than 1% of the population identifies as Christian, the trend started back in the 1970's when KFC launched it's highly effective "Kentucky for Christmas" marketing campaign in Japan!
Is there a brand you're curious to know the financials of? Reply to this email and let me know!
FRANCHISE OF THE DAY
Crushr
Fast Facts
Background
Founded in 2016, franchising since 2018
Based in Kentucky; 51 locations open as of 2022
Provides dumpster crushing services to increase capacity for businesses
Fees + Investment
Royalty: 8% of gross sales
Brand Fund: 1% of gross sales
Franchise Fee: $49,500
Initial investment: $111,675 – $318,825
Financial Performance
The below information contains performance data from the company owned outlet for the full year 2019 and 2020
The Wolf's Take
I covered a similar franchise called Smash My Trash in the Week 12 edition. Given the popularity of that business (it has sold hundreds of territories in the last year), I wanted to highlight a competitor with more territory availability.
What is Crushr?
Just like Smash My Trash, Crushr uses mobile compaction trucks that quite literally crush & compress the contents of dumpsters for businesses.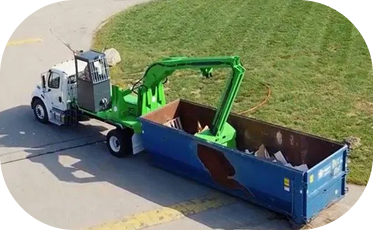 Crushr is able to increase dumpster capacity by up to 80%, which means businesses have to do less dumpster hauls, has less downtime in-between hauls, and ultimately saves money (the price of a dumpster haul is higher than what dumpster crushers charge).
Outside of financial benefits to the companies that hire dumpster compaction services, it's an eco-friendly business that reduces roundtrips to landfills, and the amount of diesel fuel consumed in the process.
For franchise owners, it's ultimately a business that is built around B2B sales, so depending on your background and skillset, that could be a good or bad thing.
It's a low overhead and high margin business:
No brick & mortar building to maintain
Can hire an employee drive the truck to perform crushes
As the owner, you can drive the truck if you want to, but if you'd prefer a semi-passive ownership than you can hire that portion out.
Profit potential comes down to how many compactions you can you do in a day – with the selling point to businesses being that they save money in the end by paying for compactions.
Competitive Landscape
The founder of Crushr, Scott Dennison, has extensive franchise experience that began over 30 years ago when he was a Papa John's franchisee.
This is typically a positive for a franchise system, because they know what it's like to work with a franchisor, and also know what is required to exceed as a franchisee.
My main question, which applies to Smash My Trash as well, is "how big is the junk compressing industry"?
Clearly the mobile compaction truck is an innovative piece of technology that has enabled lucrative service businesses to be built around it.
But with Smash My Trash selling hundreds of territories, Crushr starting to take off, and a few other small competitors popping up, will the market become over-saturated soon, or does it have plenty of room to run? It's likely still too early to know.
While the business offers high margin and high income potential, before buying a territory I would be digging deep into that question. And of course on the flip-side, if your local market doesn't have competition yet, it could be a great opportunity to take early market share!
Resources
Disclaimer: This Content is for informational purposes only, you should not construe any such information or other material as legal, tax, investment, financial, or other advice. Nothing contained on this site constitutes a solicitation, recommendation, endorsement, or offer to buy or sell any franchises, securities, or other financial instruments in this or in any other jurisdiction in which such solicitation or offer would be unlawful under the franchise and/or securities laws of such jurisdiction.
All Content in this email is information of a general nature and does not address the detailed circumstances of any particular individual or entity. Nothing in the email constitutes professional and/or financial advice, nor does any information in the email constitute a comprehensive or complete statement of the matters discussed or the law relating thereto. You alone assume the sole responsibility of evaluating the merits and risks associated with the use of any information or other Content in this email before making any decisions based on such information or other Content.