Teriyaki Madness Franchise – Costs, Fees & Earning Stats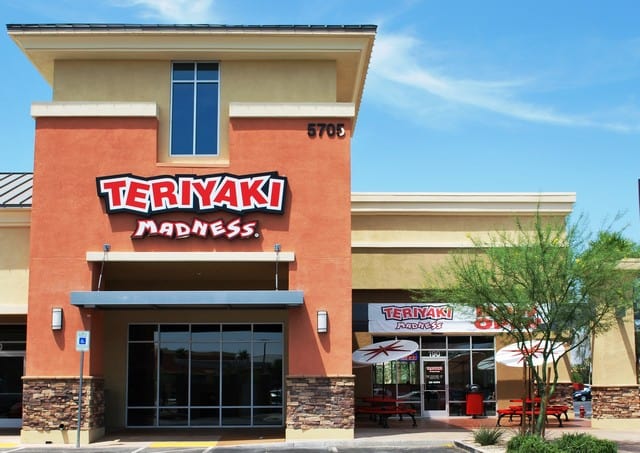 Teriyaki Madness is a quick-service Japanese restaurant franchise. The company was founded in 2003 and specializes in Japanese-style teriyaki bowls of grilled meat with your choice of rice, noodles, or vegetables.
If you're passionate about teriyaki and looking for a low-cost franchise opportunity, Teriyaki Madness may be the right fit for you.
In this article, we'll cover the company's franchise information, including Teriyaki Madness franchise costs and fees.
Is Teriyaki Madness a franchise or chain?
Teriyaki Madness is a franchise of fast-casual restaurants and is based in Denver, CO.
Teriyaki Madness combines Asian food with the fast-casual concept and has expanded internationally, with locations currently open in Mexico and Canada. Teriyaki Madness offers a variety of made-to-order dishes, including chicken, salmon, beef, and vegetarian options. All of the food is cooked fresh using all-natural ingredients. Customers can also choose from a variety of sauces and sides.
In addition to its restaurant locations, Teriyaki Madness also has a robust catering business. So whether you're in the mood for some delicious flavorful Asian food or looking to cater your next event, be sure to check out Teriyaki Madness.
How Many Teriyaki Madness franchises are there?
As of 2020, there were 78 locations, but now, according to the Teriyaki Madness website, there are 110 locations across the United States. Over three years, ending in 2020, this franchise grew 85%. While so many businesses died during the COVID lockdowns, Teriyaki Madness survived.
Teriyaki Madness started franchising in 2005 and now has locations in over 30 states.
The company has experienced significant growth and is planning on opening more locations in the near future.
With its delicious food and affordable prices, it's no wonder that Teriyaki Madness is quickly becoming a favorite among American diners.
Is Teriyaki Madness a good franchise?
Teriyaki Madness has a strong business model, and it offers an Asian food trend that is growing in popularity and that people love.
The company provides extensive training and support to its franchisees. In addition, Teriyaki Madness has a track record of success, with multiple locations across the country.
As the demand for a healthy, fast-casual restaurant concept continues to grow, Teriyaki Madness is well positioned to capitalize on this trend. For these reasons, Teriyaki Madness is a good franchise opportunity.
How much does a Teriyaki Madness franchise cost?
According to the Franchise Disclosure Document, the Teriyaki Madness franchise can cost anywhere from $346,400– $768,760. Leasehold improvements make up $120k-$329k of the range and furniture and fixtures, & equipment makes up another $51k-$126k of the range. There are also other costs including marketing, etc.
Franchisees who choose to open multiple restaurants can expect to pay a discounted franchise fee for three or more locations. The more franchises you have, the lower the franchise fee per location.
According to the Teriyaki Madness website, new and experienced franchisees pay a 6% royalty fee on net sales. There is also a 3% marketing fee on net sales that goes toward developing marketing strategies. In addition, Teriyaki Madness requires all franchisees to spend a required amount to market themselves locally.
Restaurants typically need 1400 – 2000 sq ft. of space to operate and the ideal location for a franchise is in a mall near a health club or gym where people are looking for healthier food options.
With a proven business model and ongoing support, Teriyaki Madness is a popular choice for entrepreneurs looking to enter the restaurant industry.
Be sure to do your research and understand all the costs involved before making any decisions.
What is the Teriyaki Madness franchise fee?
The Teriyaki Madness franchise fee is currently $45,000. This amount gives you the exclusive right to use our brand name and logo as well as operate a Teriyaki Madness franchise in your specified territory.
How much do Teriyaki Madness franchise owners make?
When it comes to running a Teriyaki Madness franchise, there are a few key things that franchise owners need to keep in mind. First and foremost, Teriyaki Madness franchise owners need to make sure that they are providing quality food and service to their customers.
In addition, they need to ensure that their franchise is centrally located in a high-traffic area. For at least the first 3-6 months, franchisees need to be active and involved in the day-to-day operations of their business.
After expenses such as labor, occupancy, payroll, and direct operating expenses have been taken out, the average operating income for 15 locations that were larger than 1350 sq. ft. and had been operational for at least 2 years, hadn't changed ownership, and were in traditional locations was $1,154,170, while the median was $1,183,295.
The actual earnings of franchise owners will vary depending on factors such as location and management skills. Nevertheless, with a proven business model and strong support from the franchisor, Teriyaki Madness franchise owners have the potential to earn a good income.
The below table contains gross sales information for 36 franchisees that: 
Have been in operation for at least 2 years
Have had no change of ownership within that 2 year period
Owned locations between 1,350 – 3,000 square feet
Were in traditional locations without a drive through
Are not currently for sale 
The Wolf's Take 🍟 
I love the fact that Teriyaki Madness is a fast-casual brand built around Asian cuisine. The market has an incredibly high volume of franchises that specialize in Mexican, Mediterranean, salads, sandwiches, etc. 
But when it comes to Asian cuisine, there's no big player outside of Panda Express. It's no surprise that the fractional franchise platform FranShares is building 25 of these locations for its first fund!
The average unit volume looks solid, and beyond that table, they also display 36 profit and loss statements for each location. Including screenshots of all 36 would've made this newsletter unbearably long, but I did do the dirty work of calculating the average "Operating Income" of the 36 P&Ls.
Note: Teriyaki Madness defines operating income as Gross Profit less payroll and labor expenses, occupancy expenses, and direct operating expenses. It does not include interest, depreciation, amortization, business taxes, and other costs and expenses that must be deducted from Total Sales figures to obtain net income.
It comes out to $123,690 – a 10.65% margin after royalties – which is in line with top-performing food franchises!
If you're an aspiring restauranteur, Teriyaki Madness is in the sweet spot with over 100 locations open (solid proof of concept), but still, plenty of available territories are left!
Ending Summary
Teriyaki Madness is a good franchise opportunity for entrepreneurs who are looking to enter the restaurant industry. The company provides extensive training and support to its franchisees and has a proven track record of success. With a brand name and growing popularity, Teriyaki Madness is well positioned to capitalize on the trend of healthy Asian cuisine.
Before making any decisions, be sure to do your research and understand all the costs involved before starting and running a Teriyaki Madness franchise.
Disclaimer: This content is for informational purposes only, you should not construe any such information or other material as legal, tax, investment, financial, or other advice. Nothing contained on this site constitutes a solicitation, recommendation, endorsement, or offer to buy or sell any franchises, securities, or other financial instruments in this or in any other jurisdiction in which such solicitation or offer would be unlawful under the franchise and/or securities laws of such jurisdiction.

All content in this article is information of a general nature and does not address the detailed circumstances of any particular individual or entity. Nothing in the article constitutes professional and/or financial advice, nor does any information in the email constitute a comprehensive or complete statement of the matters discussed or the law relating thereto. You alone assume the sole responsibility of evaluating the merits and risks associated with the use of any information or other content in this article before making any decisions based on such information or other content.