Three Dog Bakery Franchise – Costs, Fees & Earning Stats
Three Dog Bakery is a franchise opportunity that specializes in all-natural, gourmet dog food and treats. The company was founded in 1989, due to Gracie (a rescue dog). She inspired the business which was to create a healthy and delicious alternative to the mass-produced pet foods on the market.
Three Dog Bakery has since grown nationwide and is now one of the most popular destinations for pet owners looking for high-quality, nutritious food for their furry friends.
The Three Dog Bakery franchise offers a turnkey business model that includes everything from comprehensive training and support to marketing and advertising assistance. In this article, we'll take a closer look at the costs, fees, and earning potential of the Three Dog Bakery franchise.
Is Three Dog Bakery a franchise?
Three Dog Bakery is a franchise that was founded in 1989 and is headquartered in Kansas City, MO. Three Dog Bakery's goal is to provide fresh, all-natural dog food made with premium ingredients.
Today, Three Dog Bakery has many locations across the United States. It offers a "bark-eting" program that allows individuals to open their own location and Three Dog Bakery places a high value on quality control and hands-on management.
The program provides comprehensive training, support, and marketing resources. As a result, it's possible for almost anyone to open their own Three Dog Bakery.
In addition, Three Dog Bakery has built its brand around being a luxurious, gourmet pet food company, which seems to be taking off, especially in the post-lockdown world. Pet lovers can enjoy the company's delicious treats by visiting one of their retail locations or ordering online.
Whether you're looking for a franchise or just a great way to get started in the pet food industry, Three Dog Bakery is definitely worth considering.
How Many Three Dog Bakery franchises are there?
Three Dog Bakery is a popular national chain of dog bakeries, known for their delicious treats and unique paw-themed décor. Though the company has been growing rapidly in recent years, they currently have over 40 franchises across the United States. Three Dog Bakery was founded in 1989 by Dan Dye and Mark Beckloff.
The first bakery quickly gained a following among local dog owners. It started franchising in 2007 and today, Three Dog Bakery has locations in many states across the US and one in Canada. While the franchise is still relatively small, it has continued to grow steadily. With their delicious treats and reasonable prices, Three Dog Bakery is sure to continue expanding in the coming years.
How much does a Three Dog Bakery franchise cost?
According to the Three Dog Bakery website, the initial investment of a franchise ranges from $285,872 – $404,959. There is also a 5.5% royalty on gross sales and currently, there is a 0% brand fund fee (this will likely increase in the future – up to 3%) on gross sales. The company also requires that all franchisees have a minimum of $50,000 in liquid capital. In addition to the financial requirements, if you meet the criteria and are interested in opening your own Three Dog Bakery, the first step is to fill out a short questionnaire on the company's website. Once you submit the form, a franchise development specialist will contact you to discuss the next steps.
What is the Three Dog Bakery franchise fee?
The Three Dog Bakery initial franchise fee is $40,000 for a 10-year term. This gives you the right to open a Three Dog Bakery location and use the company's branding. Three Dog Bakery is a unique franchise opportunity that offers a turn-key business model for pet lovers who want to be their own boss. Contact the company today to learn more about this exciting opportunity.
How much do Three Dog Bakery franchise owners make?
A Three Dog Bakery franchise owner enjoys a number of benefits. Not only do they get to be their own boss, but they also get to share their love of dogs with the world. And as Three Dog Bakery continues to grow in popularity, franchise owners can get in on an opportunity within the growing pet industry.
But what about the bottom line? How much do Three Dog Bakery franchise owners make?
There is no simple answer to this question, as franchisees' earnings will depend on a number of factors, such as the location of their store and the size of their market. However, we can take a look at the average revenue for the 33 Three Dog Bakery locations to get an idea of potential earnings.
The average Three Dog Bakery franchisees' stores bring in $538,900 in average revenue with $450,800 being the median. This data was from 33 stores that were operating for all of 2021.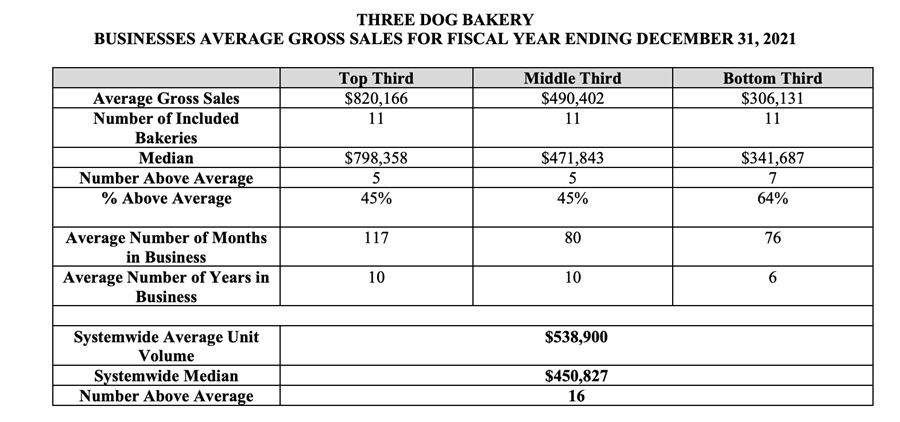 Of course, it is important to remember that not all of this revenue will go into the pockets of franchise owners. Franchisees will need to account for expenses such as rent, payroll, and inventory.
The Wolf's Take 🍟
I'm not gonna lie, at first I was skeptical of this concept. I mean…a dog bakery?! Sure, as a customer it sounds nice – I'm not opposed to buying Fido a treat for his birthday. But being the person owning the business would give me some pause.
I actually spoke to some members of this brand, and after seeing the FDD and hearing their story, I can certainly see the viability of the business. Here's why:
1. The Pet Industry 🚀
Pet industry sales exceeded $123 billion in 2021, a 13.5% growth rate from 2020. Of that, food and treats represented $50 billion.
Thanks to pandemic puppies, ~70 million+ households in the US now own a dog.
Bottom line: the pet industry has been booming, and the tailwinds for pet businesses will last as long as the pets live!
2. Humanization of Pets
Beyond the numbers, it's clear that families are treating pets more and more like true members of the family. Given that, owners are more likely to spend money on things such as birthday cakes, treats, etc.
3. Premium Products = High Margins
Yes, it's a bakery for dogs (although the food can be eaten by humans), but it's still a premium baked product, which commands a higher price point.
While I don't have an answer for what the exact net margins are on this business, I'd expect them to be much higher than the typical 10-12% other food brands have.
Bonus: CPG Products
Three Dog Bakery also has a line of CPG products that's available in Krogers, Wal-Mart, and other grocers.
These are what I'd call "watered down" products that can be bought by dog owners but don't offer the optionality or quality that you can find in the actual bakery.
Thus, it serves more as free marketing for franchise owners as consumers get exposure to the brand via their CPG line of goods.
—
If you're looking for a fun way to own a pet business, check out their franchise website below!
Ending Summary
In conclusion, Three Dog Bakery is a unique franchise opportunity that offers a turn-key business model for pet lovers who want to be their own boss. If you're passionate about dogs and providing high-quality, healthy food for them, then a Three Dog Bakery franchise may be the perfect fit for you.
As always, do your own research and due diligence and take a look at the Franchise Disclosure Document to get informed about the franchise opportunities and franchise ownership.
Disclaimer: This content is for informational purposes only, you should not construe any such information or other material as legal, tax, investment, financial, or other advice. Nothing contained on this site constitutes a solicitation, recommendation, endorsement, or offer to buy or sell any franchises, securities, or other financial instruments in this or in any other jurisdiction in which such solicitation or offer would be unlawful under the franchise and/or securities laws of such jurisdiction.

All content in this article is information of a general nature and does not address the detailed circumstances of any particular individual or entity. Nothing in the article constitutes professional and/or financial advice, nor does any information in the email constitute a comprehensive or complete statement of the matters discussed or the law relating thereto. You alone assume the sole responsibility of evaluating the merits and risks associated with the use of any information or other content in this article before making any decisions based on such information or other content.