Why Is Chick-Fil-A So Popular?
Chick-Fil-A is closed every Sunday, meaning it has 52 fewer days to generate sales on an annual basis.
Despite this fact, they still generate more revenue per location than any restaurant franchise or chain in the world!
Many have speculated as to how the chain has developed such an affinity for their product. In this article, I break down how they've achieved such extraordinary success and why Chick-Fil-A is so popular.
To fully understand this, we need to go back to the beginning.
Quick Takeaways
Chick-Fil-A was founded by Truett Cathy in 1946, who opened his first restaurant after returning from World War II.
In 1967, the first location dedicated to the now famous chicken sandwich opened in an Atlanta mall.
The company has a two-part expansion strategy that has dictated its popularity and success for decades: fund stores using profits only and strict franchisee selection and requirements.
As of 2022, the chain is 55 years into its journey as an American company and remains popular to this day, with 100+ locations opening annually.
How Chick-Fil-A Was Started
Disclaimer: Chick-Fil-A has received backlash in recent years for its funding of anti-LGBTQ organizations, as well as public comments made by former CEO Dan Cathy that opposed same-sex marriage.
The Wolf of Franchises does not condone anti-LGBTQ sentiment and believes in equal rights and opportunities for people of all races, genders, and orientations. This blog post is meant to serve purely as a business case study of Chick-Fil-A, as they approach franchising in a unique way.
Chick-Fil-A was founded by Truett Cathy, a restaurateur in Atlanta, Georgia. Cathy opened his first restaurant in 1946 after he returned home from World War II.
This restaurant was a diner called "Dwarf House" (originally the "Dwaft Grill") named because of the small size and limited seating provided.
He had expanded to a second Dwarf House location by the early 1960s, but it tragically burnt down in a fire. This set back Cathy quite a bit, as he depended on the sales from that second location to help pay his debt down.
Unfortunately for him, the insurance payment never came through, so he immediately looked to revitalize his menu at the original Dwarf House in an effort to boost sales.
This is when he got a call from a poultry supplier that would change the trajectory of Truett Cathy's career…
How the Original Chick-Fil-A Chicken Sandwich Was Created
The poultry supplier that called Cathy had just fulfilled a large order for a local airline. The airline had size requirements for each cut of chicken, as it had to fit into a small enough meal to fit on the plane for each passenger.
Certain cuts were too large for the airline, so the owner was looking to offload the remaining chicken as quickly as possible before it went bad.
Truett Cathy snatched at the opportunity — he purchased all the remaining chicken and began experimenting with fried chicken sandwiches.
After hundreds of trials and samples were given to customers at Dwarf House, he perfected the formula for the original Chick-Fil-A sandwich:
A breaded chicken breast and two dill pickle chips on a toasted and buttered bun. Most importantly, you can't forget a side of their famous Chick-Fil-A sauce, which is a secret recipe.
The sandwich had to be made using a pressure cooker to increase the speed at which it could be cooked, and baked in peanut oil to improve the taste.
To this day, they say they "didn't invent chicken — just the chicken sandwich."
Chick-Fil-A Was Born
The sandwich was an immediate hit, and Cathy knew he had to open a new restaurant that was entirely dedicated to it.
With the trademark for "Chicken Filet" already taken, he settled for "Chick-Fil-A" and opened the first location in an Atlanta Mall in 1967.
Fun fact: The "A" in Chick-Fil-A represents the quality of their chicken and the level of service they look to provide.
The restaurant took off immediately, which left one question left to answer: how to expand?
The Chick-Fil-A Success Strategy
There are many methods for expansion, both inside and outside the franchise model. Taking on debt via loans, raising money from investors, and outsourcing capital and operations to franchisees, are all different ways a Chick-Fil-A restaurant chain can grow.
So, why is Chick-Fil-A so popular? Truett Cathy's two-part strategy, which combined low debt and stringent franchisee requirements, has dictated their success for decades.
1. Fund Stores Using Profits Only
Truett Cathy was born in 1921, which means he lived through The Great Depression that began in 1929.
"Back then, you bought something if you had the cash to buy it. With debt, you have to worry about it."
Thus, his philosophy was to mitigate risk by limiting debt, a strategy that has worked incredibly well, as the company has virtually zero debt on its balance sheet to this day.
Early on, however, this meant expanding by only opening restaurants inside malls. Mall food courts required far less construction and had much lower square feet than a freestanding restaurant. This enabled Cathy to expand the Chick-Fil-A brand at the lowest possible cost.
By the 1980s, between McDonald's, Burger King, Wendy's, and KFC all opening drive-thru stores, the competition was heating up. This led to Chick-Fil-A's first-ever freestanding restaurant in 1986 and led to the importance of the second part of the expansion strategy…
2. Enforce Strict Franchisee Selection and Requirements
You may not know it, but Chick-Fil-A's franchise offering is far less expensive than traditional fast-food brands. This is what makes Chick-Fil-A unique in the world of franchising.
For instance, a McDonald's franchise can cost you anywhere from $1,314,500 to $2,313,295 per restaurant. But Chick-Fil-A will cost just a $10,000 franchise fee.
This is because they pay for everything, including real estate, equipment, marketing, food supplies, etc. There are pros and cons to this model for franchisees, but for Chick-Fil-A as a franchisor, the low price barrier allows them to cast an incredibly wide net for potential new operators.
Fast forward to today, and that's resulted in 60,000+ applicants looking to become Chick-Fil-A operators annually, of which the company only accepts around 80. That's an acceptance rate of just 0.13%, which means you have a better chance of getting into Harvard, Stanford, or even the United States Secret Service!
In addition to the low acceptance rate, Chick-Fil-A rarely allows operators to run more than one store, AND they require each store to be actively run, often meaning that operators spend six days a week inside their locations.
The Chick-Fil-A Domino Effect
Because of the low acceptance rate and strict operating requirements, Chick-Fil-A is able to filter through all their franchise operator candidates and only end up with the ones they want:
The passionate franchisees!
These passionate franchisees, who are already armed with a great product, trigger a beautiful domino effect at each restaurant that keeps customers coming back every time:
→ Passionate franchisees motivate their employees
→ Employees are inspired to provide the top-notch customer service Chick-Fil-A is known for
→ The great customer experience combined with a tasty product drives off-the-charts customer loyalty
The Results
As of 2022, Chick-Fil-A is 55 years into its journey as an American company, and they remain popular to this day.
While the approach they've taken comes at the cost of fewer locations being open, the growth of the fast food chain has begun to accelerate in recent years:
Opening 100+ restaurants annually
Highest average revenue per location in the world
Has the top satisfaction rating among fast-food restaurants
Has the 3rd highest total revenue of any fast-food restaurant, despite having thousands fewer locations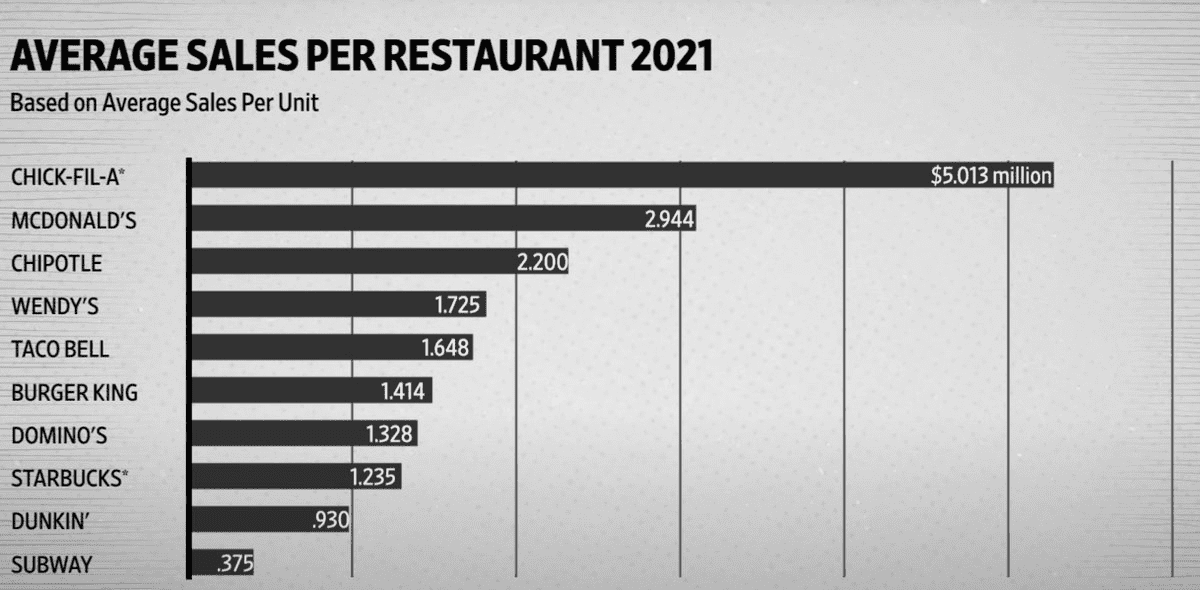 Why Chick-Fil-A Will Win in the Long Run
Assuming Chick-Fil-A doesn't deviate from its current growth methods, I believe they're on the slow and steady path to becoming the most valuable restaurant in the world (yes, even more valuable than McDonald's).
Why?
Because they have a deliberate expansion strategy that prioritizes both the customer experience and the profitability of each restaurant over the success of the system as a whole.
When you look at other restaurant franchises, their primary focus is expanding locations — because when more locations are open, system revenue increases, which results in the franchisor collecting more royalties.
Chick-Fil-A, on the other hand, is happy to go with a slow and steady approach. They are focused only on opening locations when it's matched with a passionate operator that can maximize its value.
Other franchises are unlikely ever to take this approach, given how time-intensive it is and also the fact that controlled growth doesn't produce as many headlines.
But Chick-Fil-A is playing the long game, and I believe it will win in the long run. We hope this article was helpful in explaining why Chick-Fil-A is so popular and successful with aspiring franchise owners and customers alike!