🍟 4/18/2022 – Chick-Fil-A's 2021 Financials Are In 👀
FRANCHISE HEADLINES
Chick-Fil-A 2021 Financials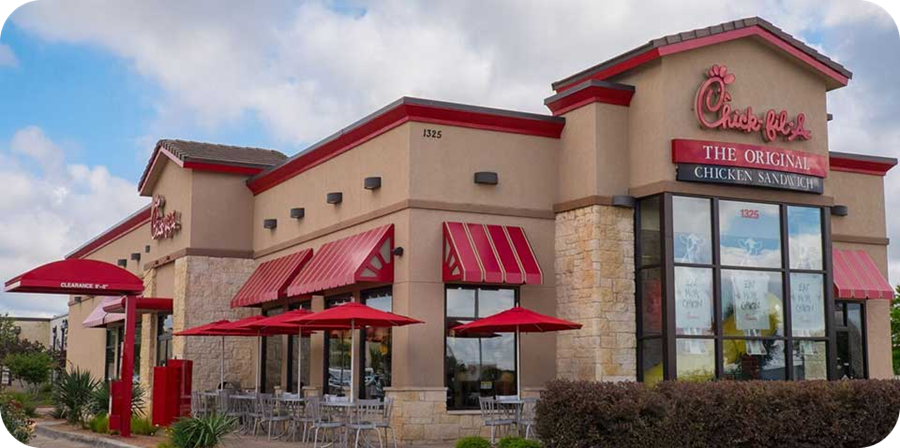 The Scoop
Chick-Fil-A reported their 2021 financials in what was another record year for the fast-food giant.
Total company revenue grew 33% year-over-year, while company profits grew by 67.3%. Additionally, Andrew Truett Cathy succeeded his father Dan Cathy as chief executive officer of the company in November.
The brand filed their annual franchise disclosure document on April 7th, giving us insight to their unit economics.
The Wolf's Take
Chick-Fil-A earns a lot of attention due to the impressive performance of the average location, as well as former CEO Dan Cathy's connections to anti-equality organizations (which they've rightly been scrutinized for).
Regarding their business performance:
In 2021, CFA's average sales per franchised restaurant not located in a mall was $8,142,257. This is based on 1,836 franchised restaurants, and shows a revenue increase of 14.7% from an average of $7,096,393 in 2020.
Meanwhile, there were 187 franchised restaurants located in malls with an average annual sales volume of $3,224,721.
These numbers are absolutely ridiculous – considering that McDonald's average sales per restaurant is ~$2.9M. Other big name brands are as follows:
Clearly, Chick-Fil-A is doing something different, especially considering that they are closed every Sunday and have 52 less days per year to generate income.
If you're interested in diving into why Chick-Fil-A is successful, check out my twitter thread on it here.
More Headlines
Baskin Robbins is Rebranding
From pink & blue to pink and…poop brown?
Burger King Operator Expands Portfolio
The multi-unit franchisee is now building Bojangles restaurants
FLAGSHIP FRANCHISE
Arby's
Founded: 1964
Units Open: 3,540
Investment Range: $629K – $2.3M
Average Revenue per Location: ~$1,200,000
Did you know?
Hank Aaron, the hall-of-fame baseball player most known for hitting 755 home-runs throughout his career, was also an Arby's franchisee!
FRANCHISE OF THE DAY
Special Strong
Fast Facts
Background
Founded in 2016, franchising since 2020
Based in Dallas, Texas; 3+ locations open as of 2021
Provides fitness sessions for individuals with physical, mental, and cognitive challenges
Fees + Investment
Royalty: 6%
Brand Fund: 1%
Franchise Fee: $35,00
Initial Investment: $53,750 – $64,700
Financial Performance
The below information contains performance data from Special Strongs affiliate outlet
The Wolf's Take
Special Strong's numbers look great, and it's a model that doesn't require a brick & mortar location. Instead, you can train clients in your own homes or via other gyms.
But beyond the numbers, the story behind this franchise is pretty amazing.
The Special Strong Story
Daniel Stein, founder of Special Strong, was diagnosed with a learning disability at age 4. In an effort to help, his parents got him involved with sports, and Daniel felt it was a healthy outlet for him that improved his behavior off the field.
He eventually grew up to become a personal trainer, and after an opportunity where he worked with a paraplegic, he knew he was meant to help people with disabilities as his full-time career.
The Video
In 2019, Stein posted a video of one of his clients, Brandon, walking independently for the first time in 8 years after working with Special Strong for 3 months.
The video amassed 10 million views and a flurry of inbound messages for Stein, with many people asking for this service in their local market.
That's when he knew franchising was the right method to grow his business.
After pouring all his effort and finances into launching Special Strong, he now finds himself with a few franchises launched, and a concept that's needed in more markets.
—
If you think you're the right fit to join Daniel on his mission, check out the brand via the links below!
Resources
Disclaimer: This Content is for informational purposes only, you should not construe any such information or other material as legal, tax, investment, financial, or other advice. Nothing contained on this site constitutes a solicitation, recommendation, endorsement, or offer to buy or sell any franchises, securities, or other financial instruments in this or in any other jurisdiction in which such solicitation or offer would be unlawful under the franchise and/or securities laws of such jurisdiction.
All Content in this email is information of a general nature and does not address the detailed circumstances of any particular individual or entity. Nothing in the email constitutes professional and/or financial advice, nor does any information in the email constitute a comprehensive or complete statement of the matters discussed or the law relating thereto. You alone assume the sole responsibility of evaluating the merits and risks associated with the use of any information or other Content in this email before making any decisions based on such information or other Content.