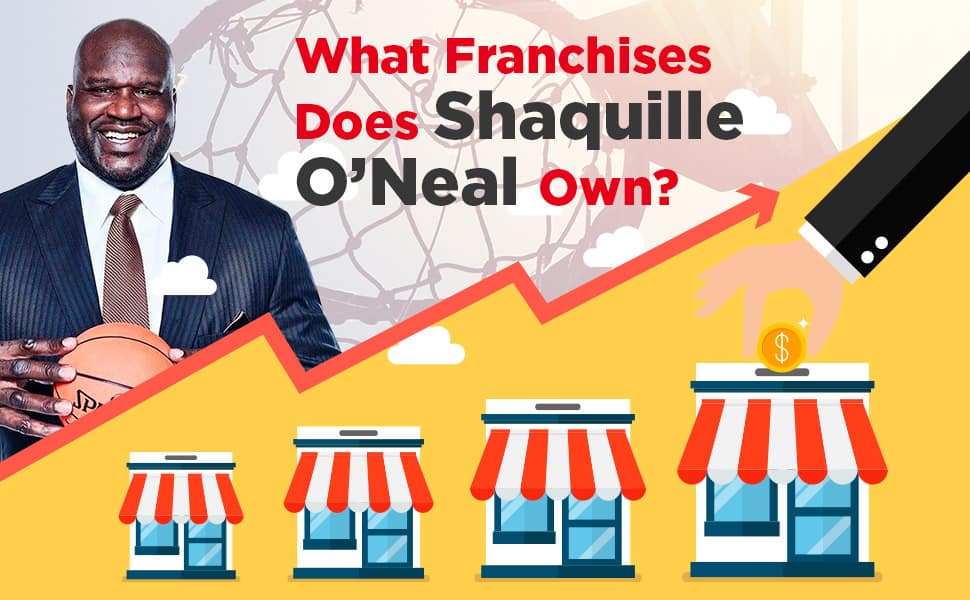 What Franchises Does Shaquille O'Neal Own?
Shaquille O'Neal is one of the biggest names in professional sports — not only by size but by reputation.
But the famed basketball player has transitioned from being the big man on the court to the big man in the boardroom by getting into the world of franchise ownership. So, how many franchises does Shaq own?
Read on to learn everything you need to know about Shaq's franchises and business investments.
Quick Takeaways
Shaquille O'Neal has a massive net worth of over $400 million, with a chunk of his wealth coming from franchises.
He's heavily involved in the franchise community and has spoken at the International Franchise Association.
Some of the franchises Shaquille owns include Papa John's, Auntie Annie's, Five Guys, 24-hour Fitness Centers, Car Washes, and Krispy Kreme.
He has other business ventures outside of franchising, such as Lyft and JCPenney.
Article Navigation: Jump to a Section
About the Man
The former NBA star Shaquille O'Neal stands 7 feet and 1 inch tall. That is a whole lot of basketball player. He played at LSU, where he also studied business, before being drafted to the NBA as a center.
He played for various teams and commanded a whopping $30 million annually for his prowess on the court. He then parlayed his unforgettable image as a professional athlete into another career — being Shaq.
Keeping himself in the public eye with endorsements, television shows, and even a career as DJ Diesel, Shaq has allowed himself to remain relevant.
Shaq's net worth is estimated to be in excess of $400 million. So what franchises does Shaq own and invest his money in?
Shaq has looked at and subsequently invested in all kinds of businesses, most notably the franchises he seems to purchase frequently. Through diversification, Shaq has grown his fortune, proving the strength of his business skills.
Shaq's Franchise Investments: A List
Shaq is a believer in franchising as a real business opportunity. He is heavily involved in the franchise community, and he even spoke at the 2022 International Franchise Association: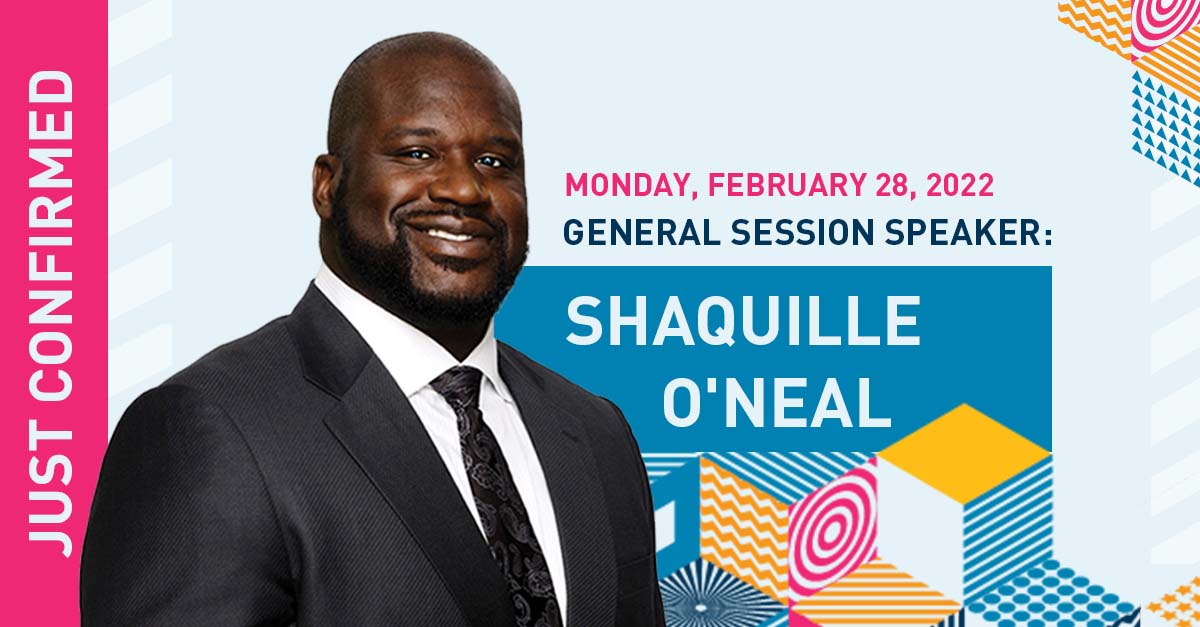 His time in professional sports taught him to believe in hard work and to practice what he preaches. Mr. O'Neal has a firm business philosophy. He only endorses or buys into products and franchises he knows, and he invests in changing lives for the better.
What franchises does Shaq own?
Here's a partial list of former NBA star Shaquille O'Neal's franchise ventures:
Papa John's
Auntie Annie's
Car Washes
Five Guys
24-hour Fitness
Krispy Kreme
He owns multiples of many of these franchises. Shaq is always happy to admit franchising has been good for him. As you'll soon read, his involvement in these franchises goes far beyond just investing.
Auntie Anne's
Shaq is the current franchise owner of 17 Auntie Anne's pretzels restaurants. We all know that smell at the mall. These represent a significant investment at a little over $300,000. The cost reflects the price per pretzel purveyor.
Five Guys
This chain is the first serious investment in a franchise that Shaq made. He eventually owned and subsequently sold 155 of the Five Guys restaurants. That was 10% of their company at the time. The Diesel eventually sold his share of the fast-casual franchise; Five Guys Burgers restaurants certainly have made him a rich man.
Papa John's
Shaq owns nine Papa John's locations, all in and around Atlanta. He has also appeared in commercials and other advertising for Papa John's. He not only bought nine franchises but also sold the company the right to use his likeness and voice for a cool $8.5 million.
Shaq has also been a board member since 2019 and also a brand ambassador for the popular restaurant franchise.
24-Hour Fitness Centers
The 40 fitness centers that Shaq purchased are one of his more low-key franchise investments. We don't know much except for the number. They are supposedly in the Atlanta area, as many of his investments are. It makes sense, though; Shaq was an athlete.
Car Washes
Shaq owns 150 car washes or so, which is why he has a lot to say about them as investments. These are some of the most lucrative money-makers. Though these may or may not be considered franchised, they are all the same type of business, and they treat him well.
Krispy Kreme
This donut franchise is known to be the favorite of all his franchises. Like many of us, Shaq fell in love with Krispy Kreme in college. He made it his goal to own a Krispy Kreme franchise, and he managed to get his hands on a great one in Atlanta that's nearly 60 years old. Maybe he should contact his cohost, as Charles Barkley loves doughnuts.
Total Franchise Worth
Shaquille O'Neal has amassed a massive reported net worth of over $400 million. Much of this wealth comes from franchises.
While the exact value of all the franchises is unknown, it is a safe bet that the value is well over half his worth. He has invested well and diversified, and his investments are working hard for him.
Other Business Ventures
Franchising is not the only business Shaquille O'Neal is in. He has reportedly purchased shares in all sorts of brands, covering everything from beauty and fashion to fighting. In addition, he has an eye for investing and likes to get in when he sees an opportunity for growth that will improve lives.
Shaq will invest in anything that seems lucrative, so long as it is a product he owns and uses or that can genuinely improve the quality of life for people. He also has several Las Vegas nightclubs, a cinema, and a strip mall in his portfolio.
Some of the other businesses that Shaq has a hand in include:
Lyft
JC Penney
Gold Bond
Icy Hot
The General Insurance
Forever 21
And that is just the tip of the iceberg.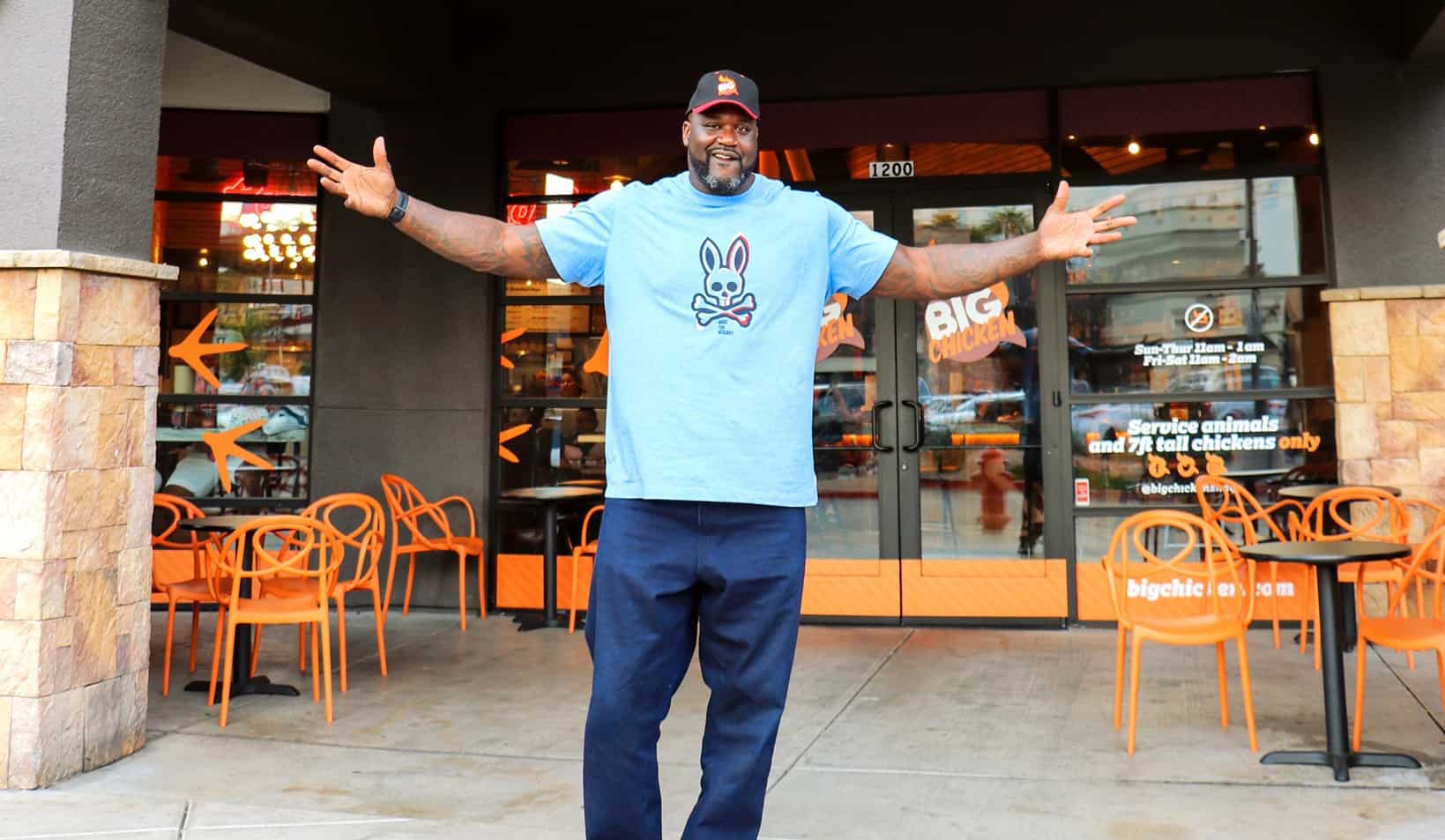 Big Chicken Restaurant
Shaq has now ventured into the world of being the franchiser. He has created his fast-food dining called Big Chicken, which serves delicious chicken sandwiches in extra-large portions. Shaq has personally overseen every aspect of this venture. So far, he has 10 locations that are receiving great reviews.
Shaq the Brand
Shaq has remained continuously visible even after officially retiring from basketball. This presence has helped to bring continued success. The player has ensured he is never out of sight for too long to be forgotten.
Shaq's smartest move is ensuring he's in demand just as much as the endorsements and money that come with his support.
Shaq Wrap-Up
Now you're well-versed in the franchises Shaq owns. Clearly, Shaquille O'Neal doesn't lack business sense. This larger-than-life man has invested in a wide range of businesses of all sizes, and it's paying off.
Shaq also shows he cherishes authenticity, as he only invests in products he consumes when it comes to food investment. The player has a huge heart and makes sure to help those around him as he can.
In short, Shaq is a big man doing big business, which reflects his unique style.