Toastique Franchise – Costs, Fees & Earning Stats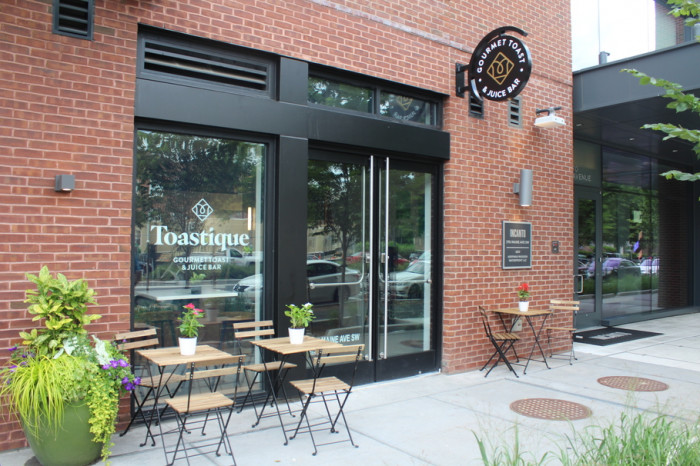 Toastique is a unique franchise opportunity that offers a fast and healthy alternative to traditional breakfast food. The company was founded in 2018 by Brianna Keefe and it started franchising in 2019. She wanted to create healthy meals on the go.
Toastique has a simple menu with healthy offerings such as toast, cold-pressed juices, bowls, and smoothies. All of their menu items are made fresh with responsibly sourced products.
In this article, we will discuss the Toastique franchise opportunity in more detail including the costs and fees associated with opening a franchise, as well as the earning potential.
Is Toastique a franchise or chain?
Toastique is a growing franchise of restaurants that are based in Washington D.C. The Toastique concept is simple: fresh, made-to-order toast, bowls, and juice for people looking for a quick, healthy meal. Its focus is on fresh ingredients and healthy choices. Where they have locations, Toastique has become a good breakfast, lunch, or snack spot for its busy customers.
How many Toastique franchises are there?
According to their website, there will be 5 locations open as of mid-August 2022. Now that they have tasted success, they are opening up new territories in hot markets. Toastique restaurants give a health-focused power meal. They have gourmet toast and juice along with on-the-go meals and snacks.
The restaurants have a bright and casual atmosphere, and they are open early to accommodate morning commuters. With their convenient locations and delicious food, it's no wonder that this health-focused franchise is popular.
How much does a Toastique franchise cost?
Toastique is a fast-casual restaurant concept specializing in made-to-order toast, bowls, and healthy drinks. The initial investment for a Toastique franchise ranges from $347,250 – $568,700. It also covers the cost of initial training and ongoing support from the corporate support team, as well as start-up costs like equipment, initial inventory, construction, and leasehold improvements.
It also gives you the right to sell Toastique products in your assigned territory. With a growing industry where millennials and other generations are increasingly wanting healthy food options, taking a look at Toastique is smart. Toastique is in one of the fastest-growing segments in the restaurant industry.
What is the Toastique franchise fee?
The Toastique franchise fee is $45,000, which grants you the right to use the Toastique name and logo.
Once you have been approved as a franchisee, you will be required to sign a franchise agreement and as a Toastique franchisee, you will be responsible for an ongoing royalty fee of 5.5% of gross sales, as well as a brand fund fee of 2% of gross sales. These fees are used to support the continued development of Toastique products and brand awareness.
Some of the ways Toastique earns revenue are dine-in, takeout, delivery, and catering.
So many businesses are health and wellness franchises, but Toastique is different. They are in the restaurant serving healthy toast and smoothies.
Toastique is looking for franchisees that can be the face of the business. Some of the traits they look for are friendly and outgoing with a strong business management background, a passion for healthy eating, and the ability to lead a team.
As a Toastique Franchise Owner, you would need to have excellent customer service skills, outstanding communication skills, be driven, and be determined to build a successful business.
How much do Toastique franchise owners make?
Toastique franchise owners are required to have a minimum of $150,000 in liquid assets and a net worth of at least $300,000. In return for their investment, franchisees receive access to Toastique's proven business model, marketing support, and ongoing training and assistance. Individual franchisee earnings vary depending on factors such as location and operating costs.
Toastique plans to open 37 more locations in the next 2 years so you can have your own health-focused franchise if you meet the criteria.
According to their website FAQs, Toastique's average gross sales was $847,710 and the average net profit was $173,192. With its unique concept and the high-growth space that Toastique is in, there is the potential for high earnings, which makes Toastique an appealing option for entrepreneurs looking to enter the food service industry.
The Wolf's Take 🍟
Folks, what can I say…I like this franchise. 20% margins for a restaurant, AFTER royalties mind you, is pretty darn good. They can operate in a small sq footprint, as the 2 locations shown above are both between 1,000-1,100 sq ft.
The concept is also well positioned to operate at each time of day. Customers can get an early on-the-go breakfast, a corporate lunch in the afternoon, and a post-workout fuel-up in the evening.
Obviously, juices, smoothies, and acai bowls were already popular in 2018 when they launched, but they've still been able to differentiate their menu by turning toast into a gourmet menu option.
If "gourmet toast" sounds a little ridiculous…I get it. I live in Manhattan and there's no shortage of over-priced avocado toast options. But Toastique offers some tasty toppings on its toast dishes – check out the 3 cheese Italian with prosciutto below 🤤.
If you're still not sold, the DC market (where they're based) seemed to love it from the get-go, as Toastique won the award for a best new restaurant in 2019.
It's a young brand with a young founder (a prior Forbes 30 under 30 winner), and I think it's a restaurant that can thrive in metro areas and upscale suburbs too.
Check it out before the rest of the country discovers them.
Ending Summary
The Toastique franchise is an interesting opportunity for those interested in entering the food service industry. Toastique is an attractive option for aspiring restaurateurs in busy urban areas and the company offers training and support to help franchisees succeed. It could be a smart choice for entrepreneurs looking to start their own businesses.
This is not investment advice. As always, do your own research and your own due diligence before investing and realize any investment may go to zero.
Disclaimer: This content is for informational purposes only, you should not construe any such information or other material as legal, tax, investment, financial, or other advice. Nothing contained on this site constitutes a solicitation, recommendation, endorsement, or offer to buy or sell any franchises, securities, or other financial instruments in this or in any other jurisdiction in which such solicitation or offer would be unlawful under the franchise and/or securities laws of such jurisdiction.

All content in this article is information of a general nature and does not address the detailed circumstances of any particular individual or entity. Nothing in the article constitutes professional and/or financial advice, nor does any information in the email constitute a comprehensive or complete statement of the matters discussed or the law relating thereto. You alone assume the sole responsibility of evaluating the merits and risks associated with the use of any information or other content in this article before making any decisions based on such information or other content.